26 Feb 2019
Guest:  LIVE NOISE
NOTE change of night, due to a Saints match on Weds. 27th (footie fans swamp The Dog on home match nights).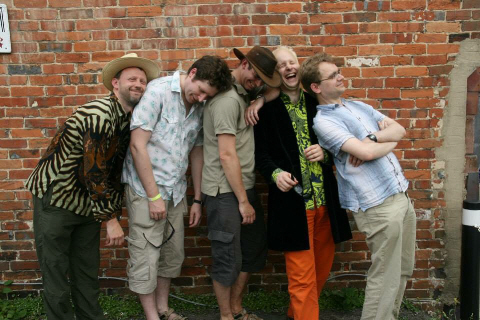 The mostly Hampshire-based a cappella harmony quintet pay a welcome return visit to the FOCSLE. Rupert, Nick, Jon, Alex and Toby originally met as members of the Hampshire Youth Choir. Since then, they've graced a varied list of venues, including a diving club, numerous weddings, charity events, funerals, music festivals, and the odd local pub.
LIVE NOISE create extraordinary sound-effects, vocally rendering both song-lyrics and instruments, after the manner of the Canadian folk-punk outfit Moxy Fruvous (a major influence: they're named after a MV album and perform several of their songs) and the Cuban group Vocal Sampling (though, mercifully, without the "air" instruments of their stage act, to ram home the message for the slow of thought). There's a difference, though: VS assign one member to one instrumental sound, e.g. "percussion", "electric guitar", throughout one song (or, in some repetitive cases, throughout the whole gig). LIVE NOISE can twist this straightforward modus operandi into the more impressive technique of having each band member's vocal part flip between the lyric and musical lines within one piece. Alex's arrangements are subtle enough that you're hardly aware how the 'song'-element flows between the five of them. It's a 'high-wire' act of musical bravado that wows audiences wherever they appear.
Their material is a mind-bending mix: unconventional covers of well-known – and not-so-well-known – songs ranging from pointedly serious 'issues' numbers via the frivolous [Fruvolous???] to the plain daft, all delivered with characteristic high energy and infectious enthusiasm. They've been singing together for more years that any of them care to remember, still going strong due to their shared love of music, and it shows — their relaxed, great fun stage presence is just one reason why we love 'em. Come along and love 'em, too!
Usual Guide Dog pattern: Singaround first; possibly a support act; first guest slot; break with raffle, which has alcohol and (usually) confectionery prize[s]; second guest slot; [in LIVE NOISE's case] wild cries of "Encore!" — we're a sophisticated lot at FOCSLE Music [I mean, y'know: speakin' French 'n' that… ] :-)