13 Nov 2019
Guests:  SOPHIE WRIGHT, with Richard Wirdnam
Confirming, as at 12:15 today, that this event is going ahead.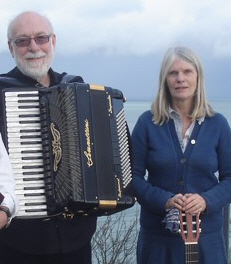 SOPHIE WRIGHT is known mainly as a member of the music theatre troupes Endangered Species [now disbanded] and Mick Ryan's Fieldwork, and more recently the folk-/Early Music fusion group Wyvern and her own theatre company Time & Tide, mounting folk-dramas that retell historical stories in words and folksong. Her appearances as a solo musician are undeservedly occasional, to say the least. Since seeing her, back in the mid '90s, as support for Graham Moore (FOCSLE Music's September guest), I used to nag the previous FOCSLE management to include this fine singer-guitarist in their booking-plans, always to no avail. She even seemed to keep her head below the parapet online and was almost untraceable, despite writing the Dorset Diary column in Folk on Tap magazine for yonks, but we HAVE (a mere 25 years later) nailed a date.
We're promised songs we'll know and some which will be unfamiliar, and she's bringing fellow Time & Tide-er Richard Wirdnam to add accordion and vocal accompaniment to some songs in the second half. She sources beautiful, unusual pieces, many from the traditional Hammond Collection, though she writes her own material too, often to Trad. tunes.
As well as with Richard, Sophie has duo'd (and still does) with Graham Moore, Bob Axford and Ken Stephens. Currently she is appearing in the Time & Tide show To Win The Day – her own compilation about the women's perspective on the events of the Tolpuddle Martyrs – and Words Take Wing, covering Thomas Hardy's use of local news items to help furnish his novels with characters and situations, produced by Wyvern.
Do get along to such a rare gig, and help dispel Sophie's oft-expressed modesty re. her talents!
Please print off copies of Sophie's flyers, and distribute wherever you can.
If nothing seems to happen when you click / tap, check your Downloads folder (for SW_SKflyrs.pdf), or wherever your set-up may default to save it: repeated clicks just put more copies of the file there! Event-flyers are paired with the next guest's: duplex-printing makes TWO 2×-sided sheets also covering the guest beyond this one. This should extend the life of our promo and help spread the word. Thanks.
Usual Doghouse Guest night arrangements: preliminary singaround; STOP PRESS! Just heard from JOHN MERITON (FOCSLE Music's Sept. guest, and a big SW fan) that he's attending, so he at least will be giving us a floor-spot: there may be another ad hoc one; raffle in the break; no formal entry charge: we'll Pass the Hat for Sophie and Richard.
M.C. Paul Clarke